DENTURES
Dentures are artificial elements destined to restore the anatomy of one or several teeth, while also recovering all dental functions such as aesthetics, voice use, chewing, facial support, etc.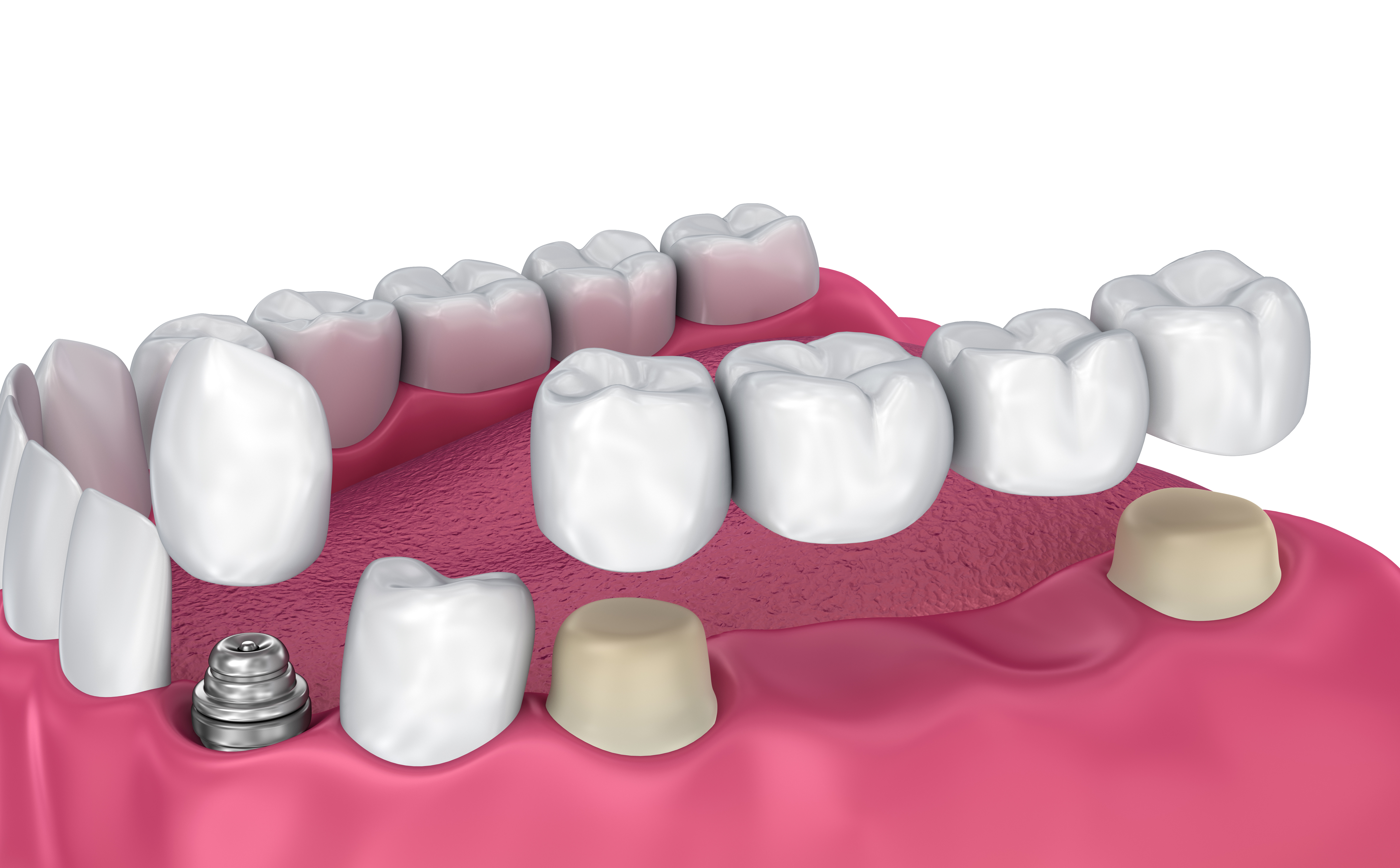 Denturesare artificial elements designed to restore the anatomy of one or more teeth. They also restore the relationship between the jaws, as they bring back the vertical dimension and replace the teeth. They meet all the objectives that are necessary or fundamental for maximum patient satisfactionsuch as functionality (chewing while eating, voice use), support, stability, retention (the fixing of both fixed and removable dentures), health and aesthetics.
Tooth loss causes major problems that not only affect chewing but also leads to the appearance of spaces (diastemata) between other teeth, changes to the inclination of teeth adjacent to the lost one, the sagging of the antagonist (opposite) tooth (if it is a top tooth), or a tooth tending to grow (if it is a bottom on), meaning that the space left by the absent tooth is occupied or closed up.
OPTIONS FOR REPLACING TEETH
ADVANTAGES:
Speed (few appointments and no waiting period)
Recovers function.
Cheap
DISADVANTAGES:
Limited aesthetic (hooks)
Requires an adaptation period
Average life of 5 years
ADVANTAGES:
Speed
Recovers function
Aesthetic recovery
DISADVANTAGES:
Requires drilling of natural teeth.
Restrictions when used with multiple lost teeth (a bridge cannot be built if there is no tooth behind the tooth gap)
ADVANTAGES:
Prevents the loss of bone
Long-lasting long-term solution (there are 25 year studies)
Recovers aesthetics and function
DISADVANTAGES:
Apparently more expensive, but this is not the case
Requires a waiting period
Patients can remove these ones from the mouth. They are often used temporarily or when patients do not have implants on which to fit fixed dentures.
These dentures are permanently joined to another tooth (which is carved). They can be for one tooth (crown) or for several (bridge) and are always fitted by the dentist using a tooth cementing technique, meaning that they cannot be removed by the patient.
Dental implants are an artificial substitute for the root of a tooth. By fitting one or several implants we can achieve the objective of fitting a denture on one or more of them to recover the loss of one or several teeth. They help to securely fix the new denture in place.
Nowadays there are as many different surgical techniques as there are types of dentures to fit on these implants. A dialogue between the dentist and the patient and a long series of diagnostic procedures is necessary to decide on the most suitable type of restoration for each patient, as there are many factors to be taken into account, such as: the number of teeth to be restored, the patient's type of occlusion, a bone evaluation, medical history and the quality of the patient's hygiene. Habits such as smoking are determining factors, along with financial considerations and many more factors that can only be analysed if the necessary time is dedicated to each patient. Therefore, before starting there is an essential phase known as "planning".
Crowns, bridges or fixed restorations on implants
Fixed hybrid on implants
Reversible hybrid on a micro-milled bar,
See the implants section for a detailed description of each option.
TRY US OUT
THE FIRST APPOINTMENT IS FREE. GET AN APPOINTMENT:952 58 36 83.
If you prefer, you can complete the form and we will contact you.