GUIDED BONE REGENERATION (GBR)
Promotes bone regeneration for the purpose of creating a suitable base for positioning implants.
Guided Bone Regeneration (GBR) is currently considered as an extremely important implantology therapy for promoting bone regeneration in jaw bone defects, for the purpose of creating a suitable base for positioning implants. GBR is based on the use of resorbable and non-absorbable membranes in combination with filler biomaterials such as autologous, homologous or heterologous bone or alloplastic materials with mechanical barrier functions, that tend to exclude epithelial and conjunctive cells from the repair zone, allowing the invasion of osteoprogenitor cells.
Autologous bone is the only graft material with osteo-conductive, osteoinductive and osteoproliferative activity, so it is the filling material of choice in surgery to reconstruct jaw bone defects. Its disadvantage is that it requires additional surgery to obtain it. (donor area plus recipient area).
Heterologous bone, usually of bovine origin, is made up of apatite carbonate crystals, free of calcium and with organic materials removed by a delicate extraction process. The inorganic bone matrix has a chemical structure similar to that of human bone. The penetration of neo-bone into the structure of the graft is favoured by the porous network inside the crystals, giving a wide surface area to be colonised by the bone, giving rise to a new bone tissue of greater density when compared to the density obtained from other types of biomaterials and with autologous bone.
In order to obtain satisfactory GBR results the following aspects should be taken into consideration: Use of appropriate membranes
Ensure good membrane stabilisation with perfect adaptation to the bone.
Creation of a space below the membrane
Obtain good healing of the soft tissues
Keep the membrane in situ, for the time necessary to obtain bone regeneration
Ensure primary wound closure by tension-free flap dislocation.
The success of GBR depends on the surgeon's skill and techniques, as well as on the particular conditions of each patient such as their health, their habits (tobacco, etc.) and whether or not they follow the post-op guidelines.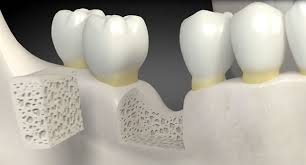 TRY US OUT
THE FIRST APPOINTMENT IS FREE. GET AN APPOINTMENT:952 58 36 83.
If you prefer, you can complete the form and we will contact you.