SINUS FLOOR ELEVATION
Sinus floor elevation is a surgery in which bone is placed in the posterior area of the upper jaw in the molar and premolar area, which allows implant treatment to be carried out where it wasn't previously possible due to a lack of bone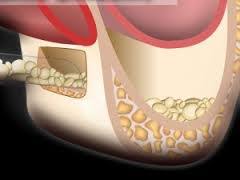 WHAT IS SINUS FLOOR ELEVATION?
Sinus floor elevation is surgery in which bone is placed in the posterior area of the upper jaw at the molar and premolar level, allowing implant treatment to be carried out where it wasn't previously possible due to lack of bone. Synthetic bone mixed with autologous bone is added between the sinus floor and the sinus membrane, which is moved upwards to make space for the bone that will regenerate, allowing the titanium implants to be fixed in place.
Several types of grafts are described, and it is possible to place the implants at the same time as the sinus floor elevation, or at a later date, depending on the initial bone height.
An initial bone height of 10 mm is required for the fitting of dental implants to be successful and predictable.
Implants placed at the same time as the sinus floor elevation (when there is a minimum of 5 millimetres of bone crest) are given their primary stability by the remaining bone, and the portion of the implant penetrating the sinus floor is coated with the bone graft.
If there is less than 5 millimetres of bone in the sinus elevation zone, it is necessary to perform the technique in two stages, first raising the sinus and then fitting the dental implants, 6 months later.
TRY US OUT
THE FIRST APPOINTMENT IS FREE. GET AN APPOINTMENT:952 58 36 83.
If you prefer, you can complete the form and we will contact you.