DENTAL IMPLANT
Return your smile to all its splendour! Now all of your dentures can be dental implants.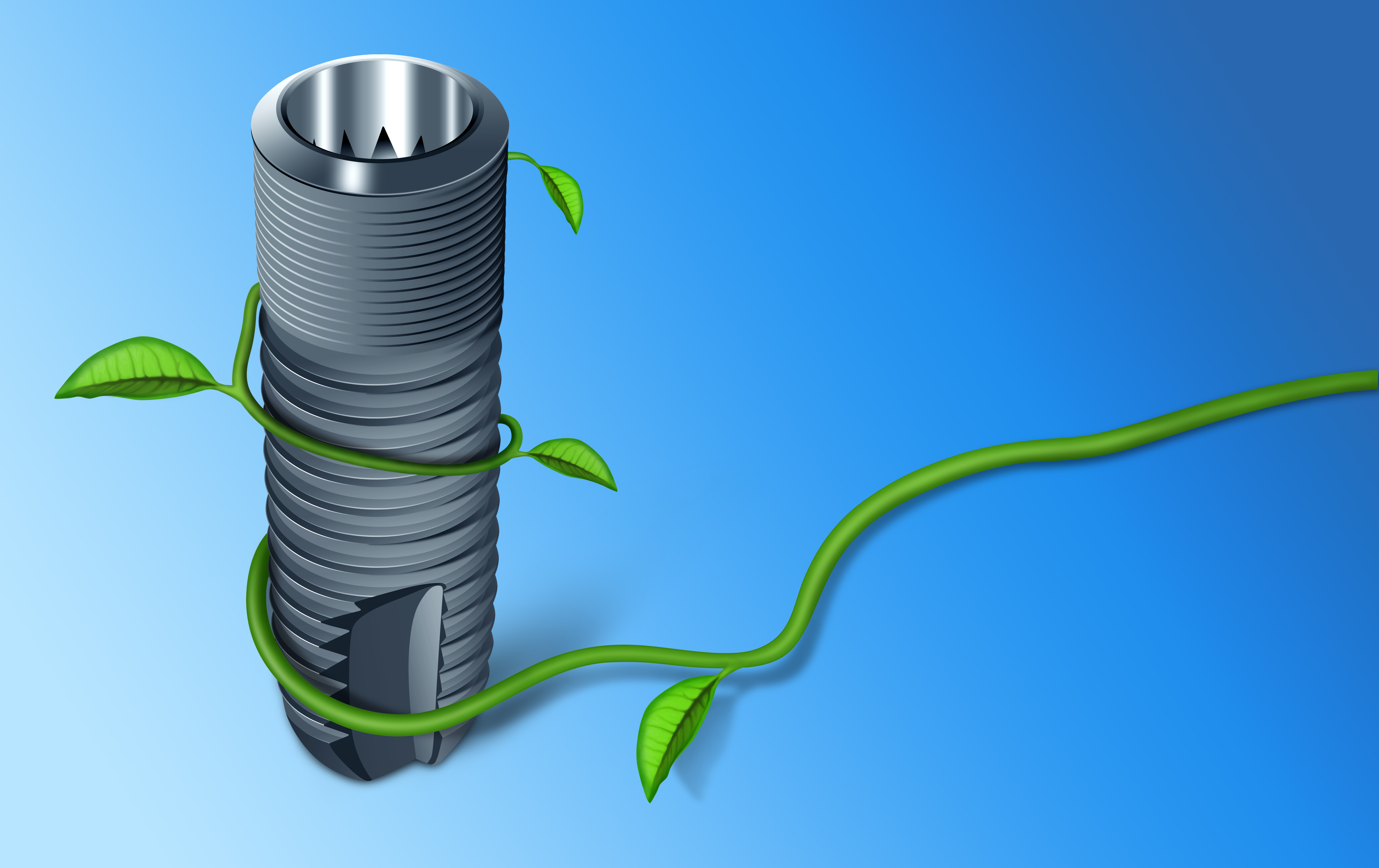 WHAT IS A DENTAL IMPLANT?
Dental implants are the ideal solution for replacing people's natural teeth, regardless of how they were lost (cavities, trauma, gum disease, etc.). Implants are the most effective solution currently available to make you feel young and healthy again.
Dental implants are made of titanium, which is a very biocompatible and strong metal that has shown to be exceptionally suitable for the human body. It even integrates with the bone itself, in these cases with the upper jaw bone or the jaw.
The fusing or welding process between the bone and the titanium implant is known as osseointegration, which effectively fixes the implant to the bone. After a few months, when the dental implant has become osseointegrated with the bone, the implant is finished and a crown – which is the only visible part of the dental implant, is installed. Afterwards, all you have to do is maintain it to ensure that your denture has a long useful life. It has got to the stage that the patient can wear temporary fixed teeth from the first day onwards, during the first few months that have to pass until the permanent tooth can be fitted. These temporary teeth perform vital aesthetic and chewing functions, consigning to history having to remove dentures during the process, which made it uncomfortable, long and tortuous. See IMMEDIATE LOADING.
When a dental procedure is about to begin, the dentist will first carry out a detailed evaluation of your oral cavity, make a diagnosis and plan the most appropriate treatment for your case.
"PLANNING" first and foremost
1 Reach a good diagnosis and even better planning; not only do we need to think about replacing missing teeth with dental implants, but we also need to think about the type of prosthesis that will subsequently be fitted, and the materials and dyes to use to achieve a perfect combination of prosthesis and implant.
2 When fitting a dental implant, it is essential to have exquisite technique when it comes to soft tissue management and bone and tissue regeneration skills. Work needs to be done with the bone and gum from the first moment to achieve the best final result. It is vital for the surgeon to be given continuous training on new techniques.
3 Use of high-end scientifically proven dental implants, the technology of which provides the benefits of maintaining the crestal bone and reduces complications caused by peri-implantitis. Nowadays, as elsewhere in life and in major retail sectors, it is even possible to find generic brands of dental implants, at suspiciously cheap prices. In the health sector, and particularly when it comes to manufacturing made-to-measure products or implants, it is essential to have the scientific and research backing that only major brands can offer.
4 Manufacturing of high quality prostheses. This is why it is important to work with laboratories that form part of our team, where on the one hand we know that they work to the qualities that we demand due to the certificates that we hold, and on the other hand communication is fluid and effective to achieve a perfect fit of the structure and the maximum personalisation of each prosthesis through porcelain, dyes, etc.
TRY US OUT
THE FIRST APPOINTMENT IS FREE. GET AN APPOINTMENT:952 58 36 83.
If you prefer, you can complete the form and we will contact you.