INTRAORAL SCANNER
An intraoral scanner is a device that allows us to make digital impressions of the oral cavity to obtain a 3D model of a person.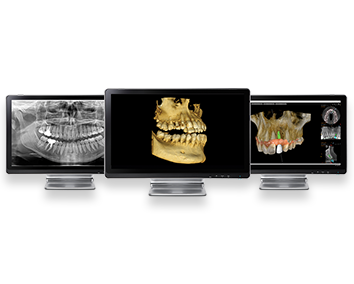 WHAT IS THE INTRAORAL SCANNER?
This procedure is carried out when the patient is going to undergo a treatment and we need to take records from his or her mouth to determine the starting point.
If you've ever had a dentistry treatment such as a crown, an implant or orthodontics work, you'll remember that a complete study must be performed before starting the treatment, consisting of x-rays and impressions (moulds).
Traditionally, the way to make these impressions was to insert a tray containing paste into the patient's mouth. At our clinic we currently offer the possibility of either using this mould, or the intraoral 3D scanner. You'll be able to tell the difference yourself.
INTRAORAL SCANNER PROCEDURE
To perform the scan, there is a pencil-based device with a built-in camera that is moved around the patient's mouth while at the same time sending a 3D recreation to the monitor.
This allows all of the characteristics of each tooth to be viewed in real time, and the intraoral camera is in turn used for better and augmented vision, allowing a more thorough inspection to be performed in search of any anomalies present in your teeth.
Once we have finished passing the pencil over all the faces of the patient's teeth, the system creates a full recreation of the mouth.
First of all, its use is very beneficial for the patient as it avoids having to take the classic impressions, which for many people is very uncomfortable or unpleasant as it causes nausea and a choking sensation.
Secondly, it plays a fundamental role in orthodontic treatments with Incognito lingual brackets or Invisalign aligners, as it allows digital impressions to be sent to manufacturers. As the data is sent electronically, the manufacturing process and start of treatment is faster. This is due to the fact that the moulds are not sent physically but in the form of a computer file, so the manufacturers receive the records immediately.
Thirdly, the accuracy and control offered by this scanner is remarkable, as it has built-in evaluation tools that prevent the scan from being finished until it has been checked and is 100% complete.
Because it's such an accurate method, further impressions, retouches or adjustments are avoided.
For all the above reasons, we can assure you that the 3D intraoral scanneris a fundamental aid when carrying out a treatment.
TRY US OUT
THE FIRST APPOINTMENT IS FREE. GET AN APPOINTMENT:952 58 36 83.
If you prefer, you can complete the form and we will contact you.